Following a review of the Council's recycling policy, we are pleased to announce that we are now only offering single waste stream skips. This will help us to reduce our impact on the environment whilst supporting Cardiff move towards zero waste by 2050.
The materials we currently collect are wood, soil, rubble, garden waste, scrap metal or plasterboard. We can potentially arrange removal of other items, so please get in touch to discuss.
We can offer reasonably priced skip hire to local residents and businesses in Cardiff. We have a range of skip sizes available, from the smaller builder's skips to larger roll-on roll-off skips, to suit a range of needs.
These skips can be hired as a one-off service or can form part of a contract with regular collections.
Builder's Skips
Prices starting at £100 (plus VAT)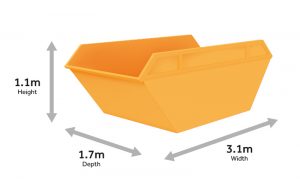 6 cubic yard
Dimensions 3.1m (W) x 1.7m (D) x 1.1m (H)
65-75 refuse bags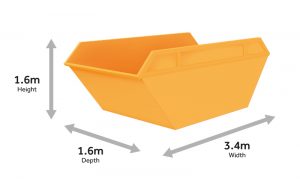 8 cubic yard
Dimensions 3.4m (W) x 1.6m (D) x 1.6m (H)
80 – 90 refuse bags
These are suitable for small projects such as garden renovations and DIY projects. They can come with or without a lid.
We may be able to accommodate requests for different skip sizes. Get in touch if you wish to discuss your options.
Roll-on Roll-off Skips
These skips can be provided with open tops, fully enclosed or with compaction facilities.
These skips are not suitable for storage on the public highway, and must be stored on private land.
20 cubic yard
Dimensions 5.8m (W) x 2.2m (D) x 1.2m (H)
220 – 240 refuse bags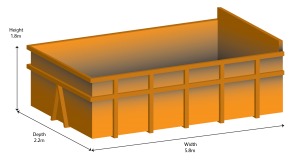 30 cubic yard
Dimensions 5.8m (W) x 2.2m (D) x 1.8m (H)
330 – 350 refuse bags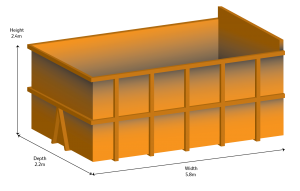 40 cubic yard
Dimensions 5.8m (W) x 2.2m (D) x 2.4m (H)
440 – 460 refuse bags
Skip Permits
If you are proposing to store your skip on the highway, you will need a permit but we can help facilitate this as part of the service. We can also provide cones and lights to comply with the permit terms and conditions.
In order to comply with Health and Safety regulations, skips must not be filled over the specified fill level.
There are also some items which should not be placed in the skip:
Asbestos
Clinical and medical waste
Batteries or acids
Hazardous or toxic materials
Japanese Knotweed
Paint cans, solvents, mastic tubes
Florescent tubes
Aerosols or gas bottles
Liquids including oils